Custom Equipment Design-Build
UV and Infrared Curing Stations, Multi-axis Robots, Surface Modification, Conveyors and More
Every assembly application is different and we design-build production ready equipment to exceed your specifications. Our curing-bonding and materials expertise, combined with assembly experience and advanced machine design are unparalleled in the industry. Give us a call and let us help you design your next project.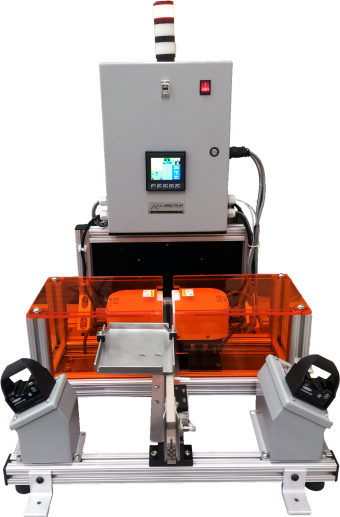 Give us a call today and let us assist you with developing your next assembly process.
Automated Multiple Bond Point UV Curing Stations

Integrated Benchtop UV Solutions to Increase Throughput

To improve assembly throughput and reduce operator error, Full Spectrum offers design-build of multi-bond point stations which allow an operator to precision cure several bonds on the same assembly, without moving the assembly to another station. This innovative approach reduces overall cycle time, additional station cost, operator error and saves clean room space.

Automated UV Curing Station, Multiple Bonds with Nitrogen Purge

3 and 4 Axis Robot Integration

Benchtop Assembly, UV Cure, Dispense and Plasma Treatment Robots

We offer 3 and 4 axis integrated robotic UV bonding and plasma treatment solutions for multiple applications. Our cartesian and gantry style robot assembly stations improve assembly efficiency, and can be built to operate with basic equipment control or advanced HMI capabilities. Let us review your complex assembly issues and provide an advanced, cost efficient and effective robotic solution for your application.

4 Axis Pick, Dispense, UV Curing Robot

Integrated UV Curing Conveyors

Benchtop UV Curing Conveyors For Rapid Curing

Designed for use with the OmniCure AC series UV LED area curing systems, the Full Spectrum UV conveyor is suitable for production, laboratory and R&D applications. Ideal for curing LED curable adhesives, coatings and inks. UV Conveyors offer 6" or 12" curing areas, stationary or rotating LED head buckets, single or dual LED heads configurations, adjustable height, digital speed controller with e-stop and complete UV system integration. Optional light tower, part sensors and more available.

Automated LED UV Curing Conveyor

Infrared Small Area Emitter System

Calibrated Small Area Infrared System – Dual and Single Emitter

IRFLOW is a powerful infrared heating system using the power of light to accelerate curing of thermal cure adhesives and coatings. A touchscreen HMI controller provides intuitive operator control and four programmable multi-stage thermal profile recipes for precision curing and repeatability. The IRFLOW is proven with thermal curing epoxies, urethanes, and silicones and a variety of medical shrink tubes. Available as an off-the shelf configuration or as part of a complete automated IR system

Automated IR Bonding Station

Automated Multi-point Plasma Treatment Stations

Integrated Plasma Treatment Systems to Improve Adhesion

Our benchtop automated plasma pretreatment systems are designed for multi-point treatment of part assemblies with unique geometries to improve adhesion. Plasma surface treatment promotes the adhesion of inks, adhesives, coatings and sealants on plastics, composites, metals and glass surfaces. The plasma pretreatment process cleans, etches, and functionalizes surfaces to activate bonding sites by increasing wettability and surface energy.

Automated Multi-Point Plasma Treatment Station

Automated Catheter Tip Treatment Station

Cool Ion Surface Modification Systems

UV-O3 Ultraviolet Ozone Surface Treatment Chambers

Our dry surface treatment method improves surface wettability And provides improved bonding and coating adhesion. Ion bombardment delivers sub-10 contact angles in less than 5 minutes, without plasma, flame or electrostatic charges. The system is ideal for temperature sensitive substrates as treatment does not damage materials, and the inert gas environment can treat parts with unique geometries. Technology is environmentally friendly and chemical free.

Cool Ion Surface Modification Chamber

Automated Leak Testing Stations and Fixtures

Advanced Leak Testing Stations Improve Productivity

Streamline your leak testing processes with an automated or manual solution that provides precision and repeatable leak testing in one integrated station. Our turnkey leak testing stations save space and time by allowing you to conduct and manage different types of leak tests for your production needs. We specialize in mass flow, pressure or vacuum decay and other leak testing methods, to assess leakage rates and verify the integrity of sealed parts.

Multiple Point Leak Testing Station

Custom Work - Process Development

Advanced Assembly Technologies and Solutions

Full Spectrum Technologies provides advanced solutions for many assembly applications. We specialize in low profile UV curing fixtures, conveyorized systems, leak testing tooling, plasma treatment applications, nitrogen glove boxes and inert gas enclosures, and much more. Give us a call and let us guide you to the optimal solution for your assembly application.