Fast Bonding IRFLOW Intelligent Infrared Small Area Curing System
Rapid, stable and repeatable adhesive bonding during every cycle with the IRFlow Infrared Curing System.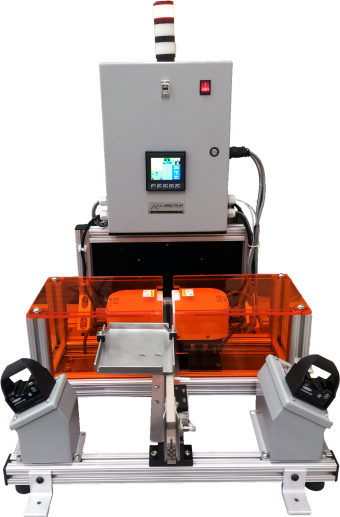 Give us a call today and let us assist you with developing your next assembly process.
IRFlow Infrared Advanced Features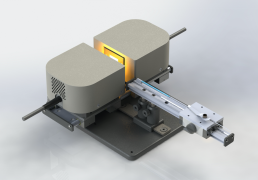 Rapid Heating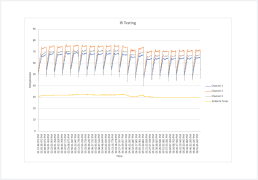 Stable and Repeatable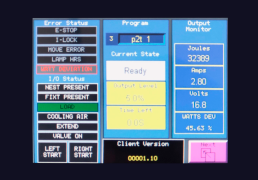 Intelligent Controls
Expert IR Process Support
Rapid Adhesive Heating for Faster Bonding
Accelerate adhesive curing and bonding with IRFlow small area infrared emitter system
Maximum curing area of 25mm x 25mm, with optional apertures for unique part geometries
Horizontal and vertical part orientation curing
Stable Temperature and Repeatable Heating Cycles
Multi-step timed recipes provide stable temperature range for optimal part bonding throughout cycles.
Consistent and balanced part temperature profiles over extended IR curing cycles ensures production repeatability.
Start Temperature Control Program and optional air cooling system for optimal results.
Baseline Watt Total control function for stable system output.
Intelligent Controls for Easy Operation
Intuitive touchscreen HMI with microprocessor for unparalleled temperature profile programming and control.
12 programmable sequential step recipes with output, timing, air cooling and more.
Ultra-compact, high performance microprocessor-based power controller for consistency and stability.
Multi-level password and user access controls, and inputs for tooling control and interlock.
Expert Infrared Curing Process Support
Full Spectrum Technologies developed many infrared processes and can assist with your unique application
Proof of concept (POC) testing and custom IR recipes available to get you started quickly.
Our expert Infrared process development team can save you both time and money.
We offer complete and turnkey manual and automated Infrared curing stations.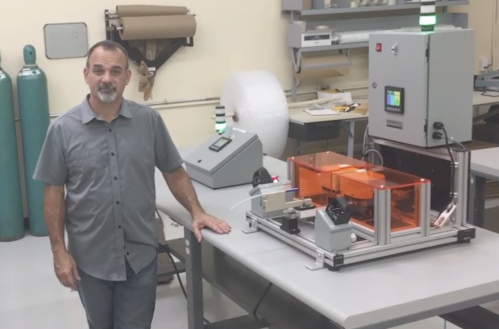 Accelerate Your Adhesive Curing
Infrared Curing In Action
Do you have an assembly process that takes 8-24 hours to cure? Are you using silicone or polyurethane adhesive?
The Infrared Smart Emitter Curing System can accelerate your cycle times, reduce production cost and dramatically improve yields. IRFlow delivers precision heating direct to your part bonds with excellent temperature stability, for optimal infrared curing and bonding results.
IRFlow System and Automated Systems
World-class engineered products and services at your fingertips.
Frequently Asked Questions
What do I need to provide to you discuss my Infrared project?

Once we setup a teleconference call to review your Infrared application we typically discuss the following…

Let us know if confidentiality is required, we can check if our companies already have an NDA in place.
We review parts, substrates, assembly and adhesive selection questions and discuss any known IR curing challenges (3D drawings, part orientation and fixturing, substrate opacity, shadowing, temperature sensitivity, surface tackiness, etc.)
We will discuss known curing parameters and cycle times to establish IR curing goals and objectives.
Finally, we review IR equipment option to determine the best, low cost solution for your application.

How long before I get a quote?

Simple projects and equipment can be typically quoted in 3-5 days. Quotes can provided with 3D models or photos and we can hold a web conference to review drawings and changes, as needed.

Can I request a proof of concept test on my parts to see if the IRFlow technology is feasible?

Yes, we can provide you a quote for a quick test of your parts and adhesive at our facility for a nominal fee. Let us know your requirements and we will provide an estimate and timeline. Please note the process typically require a quantity of parts (10-30) as we often perform destructive testing to find ideal process parameters.

Can we do the IRFlow testing ourselves?

Thermal testing of parts is tricky and we have seen many talented engineers get discouraged after they "burn up" their parts due to unfamiliarity with the IRFlow equipment and it's robust power levels. We recommend you let us do the first round of testing so we can provide you with successful POC and a working recipes for your unique parts. We are open to discussion, so give us a call!