Custom UV Safety Enclosures and UV Shielding
Full Spectrum Technologies design builds customs UV safety and inert gas purge enclosures and chambers for your unique UV curing application. Our custom enclosures provide maximum operator safety and visibility with >99.9% UV absorption.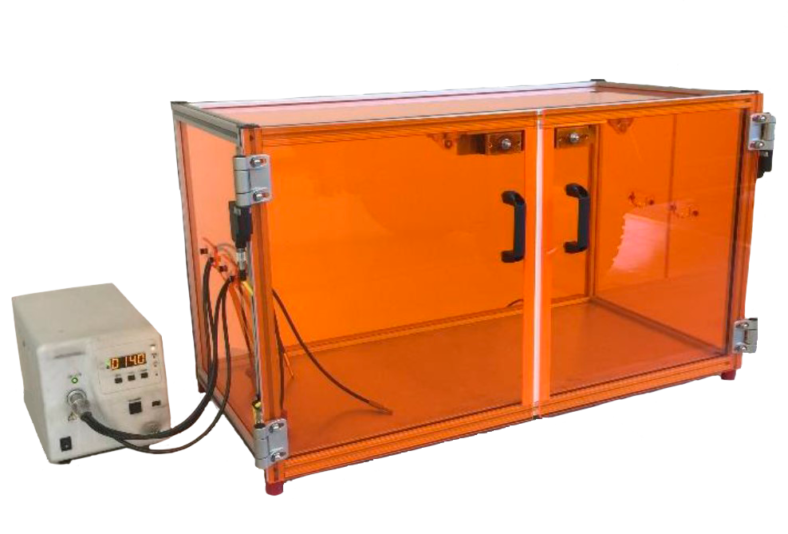 Give us a call today and let us assist you with developing your next assembly process.
10" and 16" UV Safety Enclosures

Ideal for clean room applications with minimal benchtop space, our 10" wide and 16" wide enclosures offer a small footprint and complete operator safety. Designed for use with modular UVSNAPP curing fixtures, enclosure offer open-close UV source activation, interlocks for safety, and plug and play compatibility with Omnicure and other UV curing systems.

Optional locking and custom doors available. For easy maintenance and part access, the 10" and 16" enclosures feature a clamshell design with slide out component access. Custom options include digital video camera integration, vertical and horizontal part orientation, and side access ports for long parts.

Optional all aluminum enclosure are also available.

12" UV Safety Enclosure – Clamshell - Extruded

12" UV Safety Enclosure – Clamshell – Extruded Open

16" Wide UV Safety Enclosure – Slide Out Access – All Aluminum

10" UV Safety Enclosure – Vertical Part Curing – All Aluminum

12" UV Safety Enclosure – Clamshell and Slide Out Access – All Aluminum

Mini NITRO 360 Light Shield and Nitrogen Purge Chamber

The mini acrylic light shield is custom designed for the Nitro 360 Circumferential Cure Ring and offers a cost effective, easy to install, customizable solution for curing your unique part.

For applications requiring nitrogen or argon gas purge to reduce surface tackiness, we offer a digital nitrogen gas purge controller. The optional controller is plug and play compatible with UV sources and operates in conjunction with our mini light shield.

Mini Dual Opposing Light Guide Post Light Shield

The Dual Opposing Light Guide Post fixture light shield features blue blocking orange acrylic for maximum operator visibility and safety. The Dual Opposing Light Guide Post Light Shield features removable part doors with custom machined door panels and can be designed in optional heights for specialized UV curing applications. (i.e. potting).

Dual Opposing Light Guide Post Light Shield

UV Safety Glasses

The UV Safety Glasses provide 99.9% UV absorption and reduce eye fatigue by absorbing blue and green light (ideal for UV lamp exposure). Lightweight unilens offers panoramic vision, a lifetime frame guarantee and economical lens replacement system. Adjustable lens inclination and temple length with orange UV extreme anti-fog lens and includes black frames with molded-In nose and adjustable spatula temples.

Attractive OTG (over-the-glass) styling is an economical alternative to expensive Rx eyewear. Meets military V0 ballistic test for impact, ANSI Z87+ (High Impact) and is certified to CSA Z94.3 standards. Made in USA